Feel confident in your prescribed treatment plans with the LANDAUER microSTAR ii Dosimetry System. The microSTARii allows you to quickly perform secondary dose verification with ease! The included, specialized software dramatically improves workflow and automates quality assurance (QA) tracking. In use across cancer centers, hospitals, and research centers, the microSTARii system is trusted by radiation oncologists and therapy physicists worldwide.
The microSTARii dosimetry system features a compact, lightweight, and portable reader to be used with nanoDOT dosimeters. The system is based on Optically Stimulated Luminesence (OSL) dosimeter technology for reliable and repeatable results for patient therapy QA.
What are the functions of the microSTARii Reader?
Intrinsic Measurements, which are used to assess reader stability, and
Dosimetric Measurements, which are performed when reading a nanoDot dosimeter.
What are nanoDots?
Single-point radiation monitoring dosimeter
No preparation required
Intended as a secondary patient dose verification quality assurance tool
Can be placed anywhere on the body
Can be analyzed multiple times
Uses optically stimulated luminescence (OSL) technology
Useful dose range 5 mRad to 1500 rad (50 μGY to 1500 cGy)
What are the major features of the microSTARii software?
An Optimized dosimetry workflow
Captures patient demographics, dosimeter characteristics, and exposure conditions
Perform dose calculations
Generate dose reports
Manage user accounts and administrative privileges
Integrated QA
Fully integrated and automated reader and dosimeter quality
assurance tools.
Database Backup
Automated database backup and administrative access to database management features.
The microSTARii measurement system includes the following components: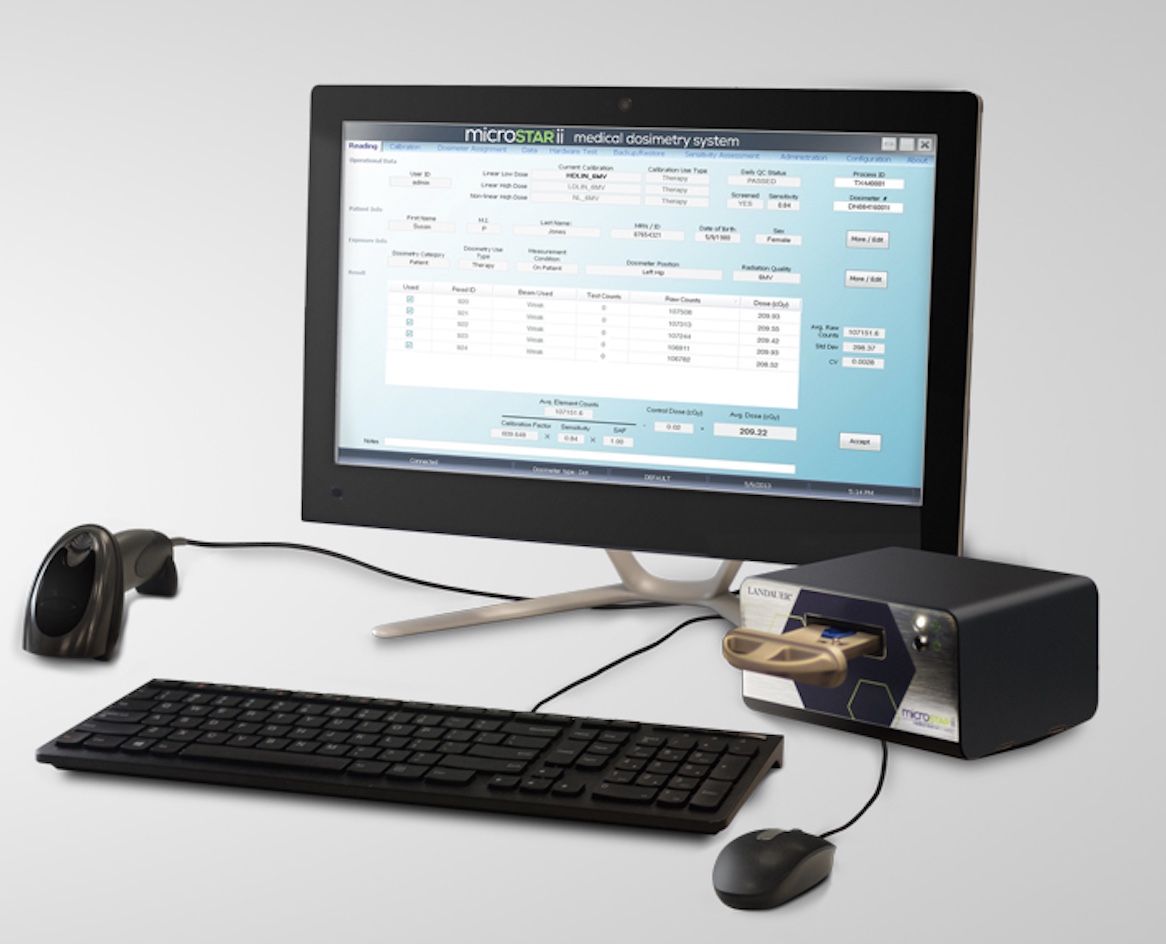 The LANDAUER microSTARii Reader (Reader Box, Drawer, Power Supply, and USB cable).
A laptop with Windows Pro 64 bit OS with microSTARii software and Microsoft Excel installed.
A 2D barcode scanner.
A Calibration and QC set to be used for installation verification only; Cs-137 or 80 kVp may be chosen by the user.
Please note: nanoDots are NOT included
The microSTARii is an ideal solution in multiple settings, including diagnostic radiology, nuclear medicine, interventional procedures, and radiation oncology. Contact us for more information!
Contact microSTARii Customer Service/Technical Support