Featured Image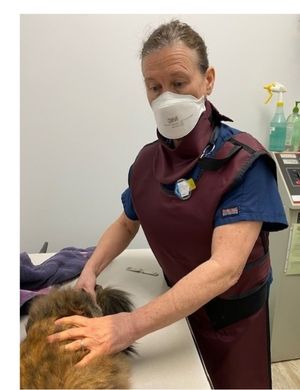 Established in 1993 by Maire Mahanes, DVM, the Charlottesville Cat Care Clinic has provided care for thousands of cats and has a sterling reputation for veterinary excellence. Focused exclusively on feline care, the doctors and staff have developed deep skills and expertise in cat health care. They call their clinic "The Quiet Alternative," providing a quiet, peaceful, and dog-free environment where cats can heal.
About the Clinic
The clinic has a staff of 13, including three veterinarians and four veterinary technicians. Stacy Campbell, LVT, VDT, is the Head Licensed Veterinary Technician and Hospital Manager. With the clinic since its founding, Stacy has been recognized by peers and professional organizations for her skills and dedication including being named Technician of the Year by the Virginia Association of Licensed Veterinary Technicians.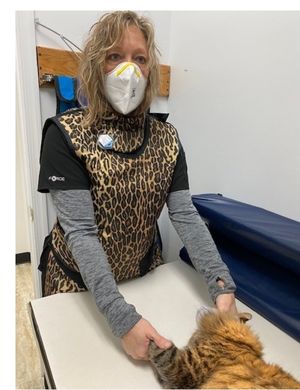 Most of their cat families have 2-3 cats, and the demand by clients for high-quality pet care has increased. The Clinic facilities offer the latest medical technology and care services for their clients.
"People come to Charlottesville Cat Care because we see only cats," says Stacy. "For the most part, it's a pretty low-key, quiet place. We don't have barking dogs or other anxiety-producing noise, so our patients have a peaceful place to recuperate."
Well Equipped
Over the years, the clinic has continued to stay up to date on the latest technology and equipment to provide the best possible services to its patients. They have been using X-ray technology for decades to help diagnose and manage the health of the cats. Stacy said, "the clinic recently acquired an advanced DR30 PACS X-ray unit which has dramatically increased image quality, allowing us to get beautiful images very quickly. We are also getting a Nomad II, so we'll be able to get great dental films. We also have an IDEXX Blood Chemistry analyzer, CBC machine, SEDIVUE DX and urine analyzer, and utilize FreeStyle Libre 3 to get readings on our diabetic patients without having to stick them."
No Typical Days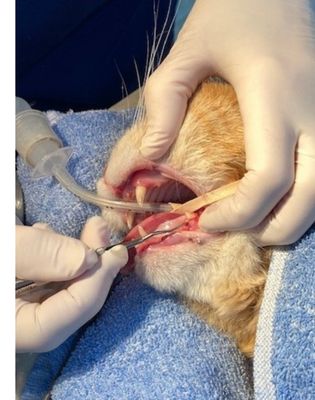 On any given day, the clinic is over 100% booked and, at times, have had to stop taking new clients.
"Only one doctor does surgery, so her availability can impact the schedule. Every day can include sedation, anesthesia for dentals or surgeries, wellness checks, technician appointments, and emergency situations. Even with the COVID pandemic, we only had to make a few changes."
Some of the changes they made include cutting their Tuesday and Thursday evening hours back to 5:30 and adding curbside service. They have continued the curbside service, now allowing one pet parent in for scheduled DVM exams.
Compassionate Teamwork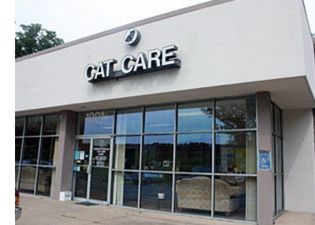 Stacy describes the team as "tight-knit team and we work together so well." In fact, three of the LVT vet techs went to college and graduated together in 1991, starting their careers at the same time. She added, "When we see our patients recover, it reaffirms why we do this."
When asked what might set the clinic apart from the competition, Stacy described a situation that captures the spirit of the clinic and the compassion of its owner. They have sadly had clients who passed away or could not continue to care for their cats, and the clinic took the cats in to be sure they were well cared for and comfortable or found new homes for them.
Diagnostic Radiation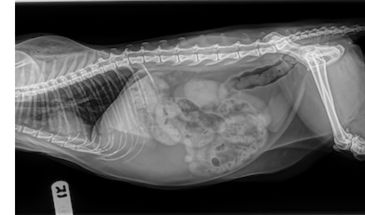 Using radiation for diagnoses is a big part of the clinic's health services.  Some cats may require specific radiation treatment, so they are sent to a local specialty animal hospital. Sometimes, the clinic can go a week without needing to perform radiation diagnostics. When it's required, the procedures last between 5 – 10 minutes, including positioning the patient.
"We routinely capture a minimum of three views of a body part imaged," explains Stacy.  "The Vet Techs are always with the patients to restrain them, unless the cat is under sedation for another procedure."
Consequently, the process has to be fast and accurate.
Radiation Safety
As the Head Licensed Vet Tech, Stacy is responsible for making sure that the staff using the X-ray equipment is protected. They use LANDAUER dosimeters to help track radiation exposure, and they are careful to follow proper safety protocols. Stacy told us the "simply won't shoot any film without them."
In fact, the techs at the clinic wear dosimeters 99% of the time when using radiation equipment. In addition, they regularly check for scatter data, their equipment is frequently inspected, and they wear PPE.
The LANDAUER Difference
The clinic was enrolled with another ionizing radiation dosimeter monitoring company for a few years, but they were very unhappy with the customer service. As a result, Stacy did some research and found PRS out of North Carolina. They were very happy with PRS, which was purchased by LANDAUER in 2022. As a result, their historical data and account was transferred to LANDAUER.
So how have they enjoyed their experience to date?
"We have only been with LANDAUER for about six months but, so far, they have been wonderful. The customer service is excellent, and we have no issues at all." Stacy concluded by saying, "I would recommend LANDAUER. They have been very forthcoming – if they don't know how to get something done, they find out that information and get back to me. Having someone to speak with when I need help, find answers, and get back to me is such a relief."