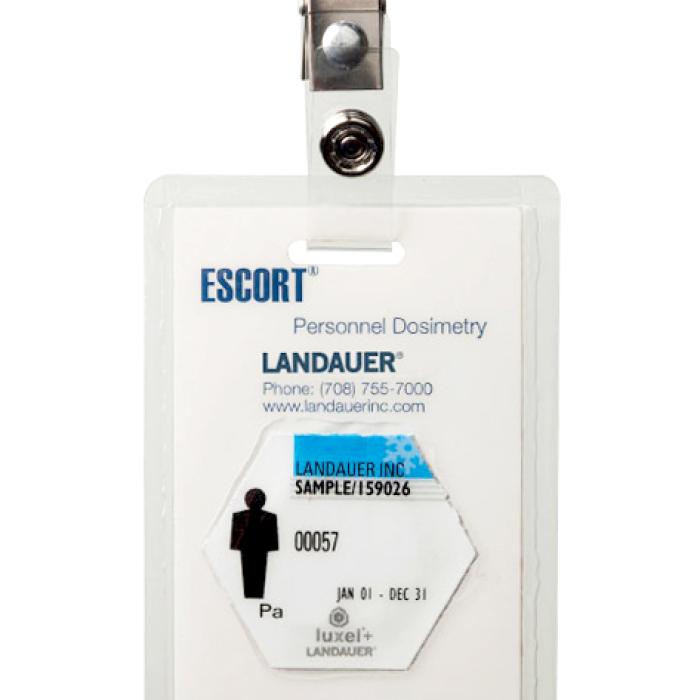 Escort®
LANDAUER's Escort dosimetry service provides radiation monitoring for emergency responders who may accidentally be exposed during a radiation incident. The laminated, wallet-sized card measures radiation exposure with a specially packaged Luxel®+ dosimeter using optically stimulated luminescence (OSL) technology. OSL technology is an advancement in passive radiation protection dosimetry that improves on the best features of traditional film and Thermoluminescent Dosimeter (TLD) technologies.
Escort can be customized to meet the administrative needs of a radiation monitoring program through graphic, color and packaging design options. In addition to these administrative advancements, Escort offers complete reanalysis, imaging, increased sensitivity, precision with a wide dynamic range of measurement and long-term stability.
LANDAUER's comprehensive full service ensures automatic shipment of replacement dosimeters for each wear period, accredited dose of record processing and analysis of returned dosimeters, data management, reporting of exposure results and customer service and technical support programs. In addition to LANDAUER's full range of diagnostic evaluation and reporting services, many ancillary services are available including direct computer access via the Internet to LANDAUER's database for exposure reports, shipment tracking and account maintenance transactions.