Featured Image

Cara Sullivan BS RT(T) CMD
Director, Medical Dosimetry, LANDAUER Medical Physics
Immediate Past President, American Association of Medical Dosimetrists (AAMD)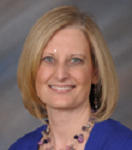 I have had the great pleasure working in the field of Radiation Oncology and Medical Dosimetry for over 30 years, and still most people have no idea exactly what I do! I have been with LANDAUER Medical Physics (LMP) for 22 years and couldn't be prouder to be a part of such an incredible team of Medical Physicist and Dosimetrists. Most of you are already familiar with occupational dosimetry which is used for radiation dose monitoring of staff and patients. Radiation Dosimetry, or medical dosimetry, is the science of generating treatment plans for the delivery of radiation for cancer patients.
If you have ever met a Medical Dosimetrist you will notice they all share a few personality traits. A dosimetrist is the most dedicated, determined, and hardworking person you may ever meet. They do not give up until they know they have developed the very best treatment plan to cure someone's cancer. A Medical dosimetrist a part of the radiation oncology team who works closely in collaboration with the radiation therapists, medical physicists, and radiation oncologists within the department.
In these current times of the COVID-19 pandemic the importance of a medical dosimetrist is still essential. Because of the nature of cancer, treatments cannot be delayed. The radiation oncologist is still doing in person or video consultations with patients. Following the consultation, the physician initiates the specific course of treatment for that disease. A cancer patient cannot receive treatment until the dosimetrist has generated the radiation treatment plan. Once that plan has been reviewed by the radiation oncologist, medical physicists, and all required QA has taken place, the patient can start radiation treatments.
A Medical Dosimetrist needs to know math, physics, anatomy and physiology, radiobiology, and have strong computer skills. Precision is essential to success. The human body is a very delicate being, all our internal organs or as we call them "organs at risk" need to be protected from too much radiation. Dosimetrists follow protocol guidelines to use for every organ. Not only do we have to consider a safe dose, the amount of dose delivered per fractionation changes the potential damage to the organ. Every treatment plan that is generated is different, no monotony in this profession. The dosimetrist walks the fine line between designing a plan that treats the tumor and minimizes dose to organs. Generating a treatment plan is much like creating an art masterpiece, every detail of the treatment delivered needs to create a positive outcome. Most of the time that outcome is cure, but at times treatment is used for pain relief of metastatic disease.
Shown in the illustrations below are examples of a pelvis/prostate plan and a Stereotactic Body Radiation Therapy (SBRT) plan in the lung. A pelvis plan is usually standard fractionation of around 20-36 treatments depending on staging of the disease, SBRT treatments are delivered in as little as 1 treatment to 5 treatments at a high daily dose.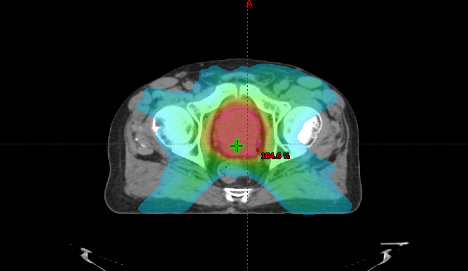 Prostate Treatment Plan: The red area is the target area where the dose needs to be the highest. As you move away from that area the color represents lower dose to spare organs such as the rectum, bladder, bowel and bones.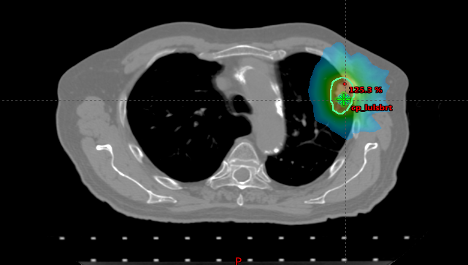 SBRT Lung Treatment Plan: Much smaller tumor and higher dose delivered daily. Organ sparing to lung, heart, airways, bone.
Let us hear from you - fill out the form and select Radiation Oncology Therapy Services
When a dosimetrist looks at the isodose lines on their plan, they are looking for a very conformal design. I have often heard a dosimetrist say, wow what a beautiful plan that is a true work of art! A dosimetrist is often a great problem solver. They continually seek and try new techniques to make a treatment planning better and will assist the radiation therapist with difficult patient setups. Most cancer patients never meet the dosimetrist, and honestly do not know we exist. I call us the silent heroes, but still an important part of the cancer care team.
At LMP, I have the pleasure of working with many talented medical dosimetrists and physicists. Due to our very large team across the entire United States we have a wealth of treatment planning and radiation equipment knowledge. With a large experienced team like LMP one can always find assistance for difficult plans and treatment techniques. Working collaboratively allows us to go above and beyond our client's expectations.
With the COVID-19 virus and many people working from home, LMP was already prepared due to the success of our remote dosimetry division. The remote dosimetry team has been a great resource for those who are having trouble working remotely. Many institutions may have a decrease of staff due to the virus; the remote division will be poised and ready to assist should they need arise. Some of our onsite (permanent contract) dosimetrists are still going into clinics daily. They to are on the front lines, let us applaud their continued dedication.
As a Director of Dosimetry for LMP and the current President for the American Association of Medical Dosimetrists, I have an immense passion for the field of Medical Dosimetry. Curing cancer is my mission! To learn more about the field of Medical Dosimetry visit the AAMD's website at www.medicaldosimetry.org . Join me as I celebrate National Medical Dosimetrists Day Wednesday, Aug. 19th!