ATTENTION: Radiation Safety Officers – Now Access the Newest Survey Meter Technology. This new survey meter is perfect for Imaging and Therapy Physicists
LANDAUER is proud to offer the RaySafe™ 452 survey meter -- a powerful device that measures ionizing radiation in a wide variety of applications, including finding spilled isotopes and measuring scattered radiation from X-ray machines and linear accelerators.
$600 Savings – 15% off
Promotion extended to December 31, 2020, LANDAUER is offering the RaySafe 452 survey meter - the complete version with 2-lid attachments for the price of only one lid!
As versatile as you are
The measurement technology of the RaySafe 452 is based on a combination of a silicon sensor cluster and a Geiger-Müller pancake. The instrument has two interchangeable lids (depending on model) to switch between air kerma, ambient dose equivalent and counts. This design makes it a versatile instrument with a wide and flat energy response along with high sensitivity and a quick response time.
Flat energy response
Broad application range
Compliant with IEC 60846-1
Automatic data storage
RaySafe™ 452 Radiation Survey Meter
Open configuration options
Users can spend more time on measurements and less time on settings. Just turn on the instrument and within a few seconds you are ready to measure. The RaySafe 452 does not require any corrections or manual settings, letting users focus on radiation protection rather than set-up.
The intuitive interface shows all parameters in one view. All measurement data is stored automatically, and the included PC software, RaySafe View, provides easy data transfer for further analysis and data storage.
One device for every situation means less to carry, learn and manage. That equals less expense, more efficiency and time savings.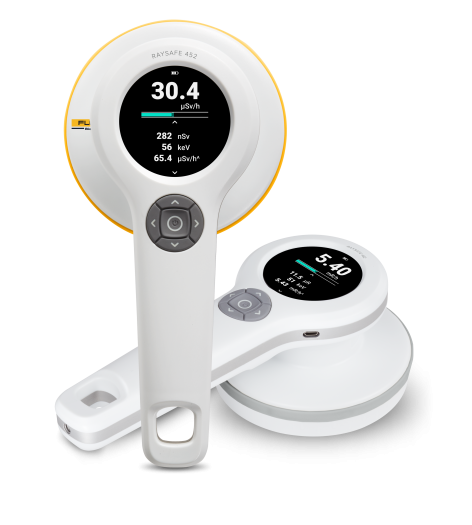 RaySafe 452 essentials
Large display
Intuitive user interface with easy to view parameters in bright daylight and dark environments. All parameters in one display for overview and easily accessible settings.
Fast response time
The dose sensitive Geiger-Müller pancake enables a fast response time even at very low dose rates while the silicon diodes provide accuracy and speed at higher dose rates.
Convenient data storage
The dose rate value is automatically saved every second providing comfort not to lose data and enabling measurement analysis at a later stage. The data can be transferred to PC with the software.
Sensitive, stable sensors
Silicon diodes combined with an energy compensated Geiger-Muller pancake provide high sensitivity and stability over a very wide energy and dose rate range.
Worry free
Wipe the instrument with a wet cloth or wash under rinsing water thanks to the IP64 classification. The durability and wide temperature range also makes indoor and outdoor measurements possible without worrying about the instrument.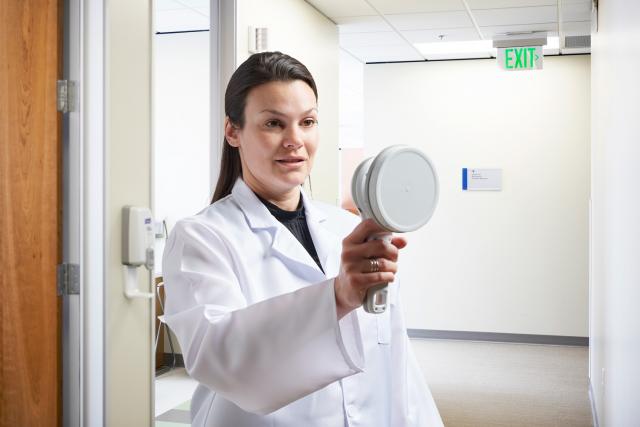 Talk to Us. Request a Demo.